[ad_1]
The ICAC temporarily went into private hearing mode today, as the anti-corruption watchdog deepened former NSW Prime Minister Gladys Berejiklian's relationship with his secret partner, Daryl Maguire, and this that she had told her nearest staff and when.
The former prime minister admitted ignoring her chief of staff's advice in 2018 that she should have nothing to do with Mr Maguire, after testifying before the ICAC in 2018, whose nature, admitted Ms Berejiklian, had "upset and shocked". her.
Ms Berejikilian said she did not recall whether she had told Sarah Cruickshank if her relationship with Mr Maguire was "ongoing" at the time of the 2018 phone call to her main collaborator.
"I let it be known that I was close to him, it was over and over again," she said.
Lawyers for Ms Cruickshank insisted Ms Berejiklian told their client the relationship was over – a premise rejected by the former prime minister.
Assistant lawyer Scott Robertson said what Ms Berejikilian told Ms Cruickshank was important and should be remembered, as there was the potential for "explosiveness" and "political risk" for the Prime Minister's Office if the news of their relationship was broadcast in the media.
Shortly thereafter, Mr. Robertson requested that the ICAC hearing be private, attended only by the attorneys concerned.
When the hearing resumed in public, Mr Robertson asked why Ms Berejikilian did not appear to follow her own advice on July 25, 2018, when she urged her staff to notify the ICAC if they had any suspicions or information about Mr. Maguire, following his testimony. in July at the ICAC on July 13.
"I obviously had no information to report," she replied.
Ms Berejikilian admitted that Mr Maguire had given advice on how to deal with the political fallout following his evidence of the ICAC, and also how to approach the 2018 by-election in his electorate in Wagga. Wagga.
Ms Berejiklian has been toasted at length over a $ 20 million proposal for a new recital hall for the Riverina Conservatorium of Music in Wagga Wagga.
"I thought it was a laudable project," Berejiklian said, adding that it was not unusual for a democracy to "throw money" at an electorate in a by-election.
The hearing was broadcast on a tape of a conversation between the two in July 2018, where Mr. Maguire ends a call by saying, "I'm going to go and relax, you just threw money at Wagga. "
Mrs. Berejiklian then replies: "I am going to throw money at Wagga, don't worry about that. A lot."
When Ms. Berejikilian was asked whether it was "desirable, if not mandatory" to declare to the government that her relationship with Mr. Maguire was a potential conflict of interest, she simply replied: "No".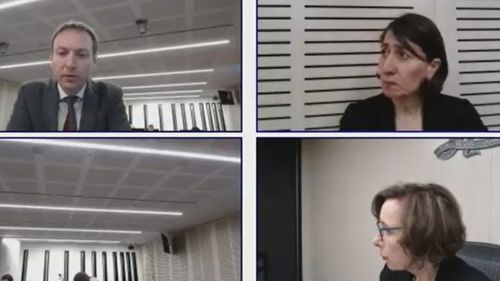 The former prime minister returned to the ICAC's hot seat today as the anti-corruption watchdog examines whether or not it has violated public trust. Ms. Berejiklian has always denied any wrongdoing.
This morning Ms Berejikilian discussed a number of scenarios that could have raised concerns about whether Mr Maguire was involved in questionable activities, including "providing him with a full list of properties" to Chinese property developer Country Garden.
After intense questioning, Ms Berejiklian dismissed claims that she should at least have suspected that Mr Maguire was involved in wrongdoing, but admitted that there was a "cloud" above him after his death. testimony before the ICAC in 2018.
Mr Robertson this morning directed Ms Berekilian to text messages where Mr Maguire told her to download WeChat, a Chinese instant messaging app.
"You have to get a private phone," Mr. Maguire also wrote in a text.
Ms Berejiklian said she had no recollection of this conversation and reminded the inquest that she had not purchased a private phone.
"Maybe he told me," Ms. Berejiklian said.
"But other colleagues did it too because I was someone who had never had a separate phone."
She said she wasn't concerned with Mr. Maguire's suggestions and thought it was probably just because of "privacy" – and nothing untoward.
"I did not assume any wrongdoing and assumed that if he had any private interests of any kind, they would be disclosed in the proper manner."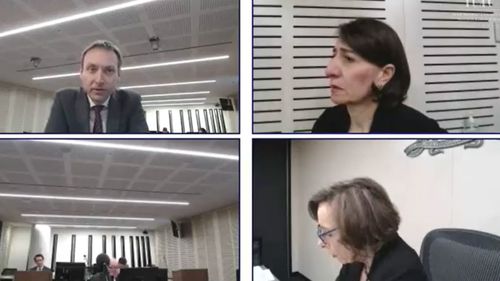 Earlier, Ms Berejiklian said she had no recollection of a conversation in 2018 where Mr Maguire revealed he spoke to Chinese developers.
The investigation focused on the transcript of an intercepted call in which Mr. Maguire discusses "providing a whole list of properties" to Chinese property developer Country Garden.
Ms Berejiklian said she did not recall this conversation and did not "absorb" any details.
"My radar didn't go off at all, I wasn't worried," Ms. Berejiklian said.
"I kept asking him if he hadn't done anything wrong and he said no.
"He was someone I trusted, someone my colleagues trusted …"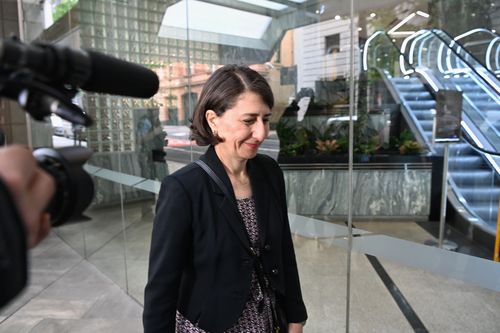 Although she "destroyed" his brain, Ms. Berejiklian believed Mr. Maguire when he told her that he had done nothing wrong and that he was not involved in anything illegal.
"I certainly wasn't aware of anything, if I had, I would have reported something," she said.
"There was nothing I could remember, nothing I knew.
"I didn't suspect him of corrupt behavior."
Mr Robertson suggested that the ICAC – not the Prime Minister – was in a better position to assess whether something suspicious was going on.
Ms Berejiklian rejected Mr Robertson's suggestion that she could have been caught in the "cloud" of suspicion, had she reported Mr Maguire to the ICAC.
She also refuted the idea that her judgment might have been hampered by her feelings for him, as she had "sacked" him following his 2018 statement to the ICAC.
The ICAC is investigating whether the former prime minister had a conflict of interest when she awarded multi-million dollar grants to projects for Mr. Maguire's electorate.
Last week, the inquest heard a 2018 phone call where Ms Berejiklian told her then-secret boyfriend that she was, in her own words, "throwing money at her electorate Wagga Wagga."
Ms Berejiklian resigned at the end of September when the ICAC announced a public hearing to determine whether her conduct involved a breach of public trust.
Ms Berejiklian reiterated on Friday that her secret relationship with Mr Maguire was not "sufficient" enough to be declared, although she admitted that she was in love with him and had "aspirations" to marry him.
When asked if she would have disclosed the relationship if she "had time again", she replied that she "would not have done so."
[ad_2]